iFI-Audio nano iDSD Results of operation check
Audio File Format Specifications
44.1/48/88.2/96/176.4/192/384KHz(PCM)
2.8/3.1/5.6/6.2MHz/11.2/12.4(DSD)
353/384KHz(DXD)

Our company does not guarantee the accuracy of this content.
For the latest specifications, please confirm on the website of the manufacturer.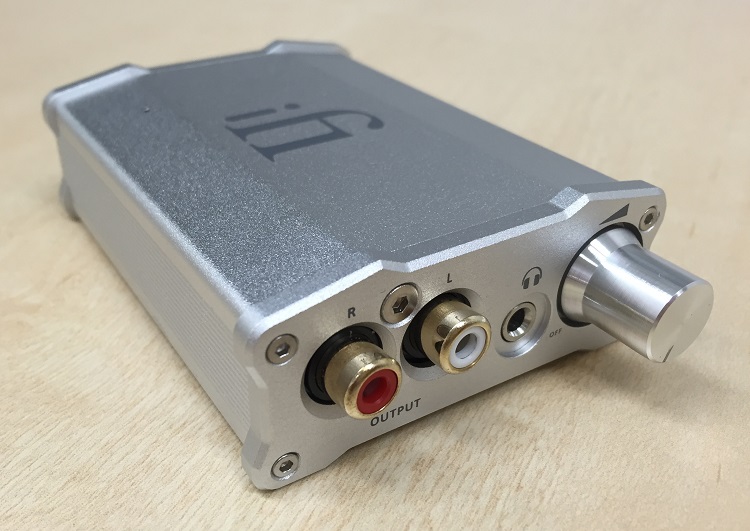 ---
Operation Check
PCM
ASIO
WASAPI
Exclusive mode(DoP)
44.1kHz/16bit
*
*
44.1kHz/24bit
*
*
48kHz/16bit
*
*
48kHz/24bit
*
*
88.2kHz/24bit
*
*
96kHz/16bit
*
*
96kHz/24bit
*
*
96kHz/32bit
*
*
176.4kHz/24bit
*
*
192kHz/24bit
*
*
352.8kHz/24bit
*
*
384kHz/24bit
*
*
DSD
ASIO (Native)
WASAPI
Exclusive mode (DoP)
2.8MHz/1bit
*
*
5.6MHz/1bit
*
*
11.2MHz/1bit
*
*
Legend
* Bit Perfect
# Not Bit Perfect
- Not covered or Impossible to play

Remarks
Checked Period:February,2016
HYSOLID Engine Ver. 1.8

This operation check was independently conducted by our company.
The results of this operation check do not guarantee the operations of HYSOLID or USB-DAC.
Please refrain from making inquiries regarding the results of this operation check to the manufacturer or the distributor of USB-DAC.
---
Impressions at the time of test
The most attractive feature of this DAC we feel is the richness of WASAPI (exclusive mode) interfaces. In WASAPI exclusive mode, in almost all of the cases, only 32 bit, or only 16bit and 32 bit is prepared for bit depth used in transferring DATA to DAC driver. But, these three DAC models in this series can transfer data in all of three bit depth supported by HYSOLID , which are 16bit, 24bit and 32bit.
When you play the PCM sound source with 24 bit depth that is most seen for high resolution, the ordinary DAC will send sound source data with data width of 32 bits complementing 8 bits. However this series is capable of sending 24 bits without changing it. It means that the amount of data you are sending will be only three fourth. This DAC is suitable size for portability but is comparable to bigger DAC such as those for stallation.